The HeartHalf Half Marathon & 5K Love Run -- It's All Heart

™
The HeartHalf Half Marathon and 5K Love Run are nationwide events that celebrate "heart health" in all its forms. The Events benefit local heart-health hospitals and the American Heart Association through a network of partnerships and relationships.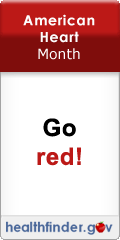 It's also a celebration of Love in many forms--from the post-race "Singles Tent" (special bib required for entry) to the official who will be on-site for a mass renewal of wedding vows under the beautiful, heart-shaped arch. The HeartHalf Events are a special way to share your love of running/walking with the one(s) you love. 
Held in key cities throughout the world, The HeartHalf Half Marathon and 5K Love Run was founded in Dallas, Texas, headquarters for the American Heart Association. 
Single? Share Your Love of Running!
If you register as "I'm Single!", you get a special colored bib and tech shirt which let's that certain someone--who just might be running the same race--know that you are. It also gets you access to the exclusive HeartHalf and Love Run Singles Tent -- where post-race you can sip mimosas and champagne and enjoy some snacks in a special setting and get to know your new "running partner"! 
Singles will also be given little jingle bells for their shoes, so everyone will be able to hear you!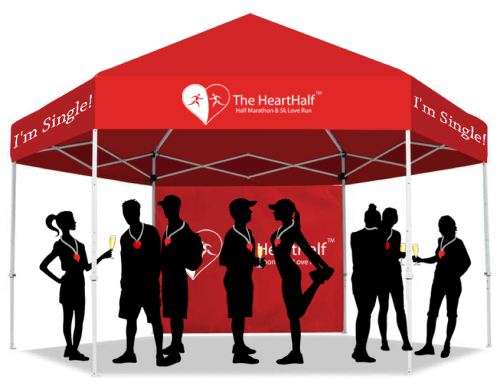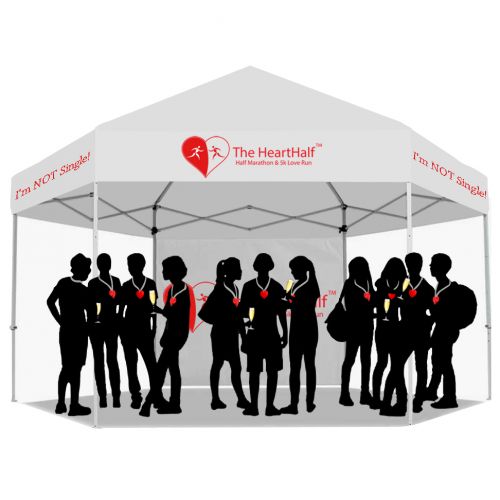 Not Single?
Whatever that means to you, for those who register as "I'm Not Single!"--you too will receive a special bib and you'll be able to enjoy the post-race festivities in couples style at the "Not Single Tent" with similar amenities with your special someone. For the married runners, you'll even have the ability to renew your wedding vows with an official after the race ends, under our special heart-shaped arch. 
Almost Not Single? 
The special HeartHalf arch couldn't be a better place to find that one knee with your running partner. Just sayin'. 
Heart Health 
Since The HeartHalf Half Marathon and 5k Love Run is "All About the Heart" we are working with both the American Heart Association and local heart-health hospitals as our charity organizations. A portion of each registration will be donated to these organizations to help fund the fight against our nation's No. 1 and No. 4 killers – heart disease and stroke. Contributions will support such life-saving efforts as research, education, advocating for better health, improving patient care and reaching populations at risk.
You may also elect to donate to either of these organizations during your registration. 
Organizations will be at the start/finish line for quick blood pressure checks and other information to help you keep the beat.